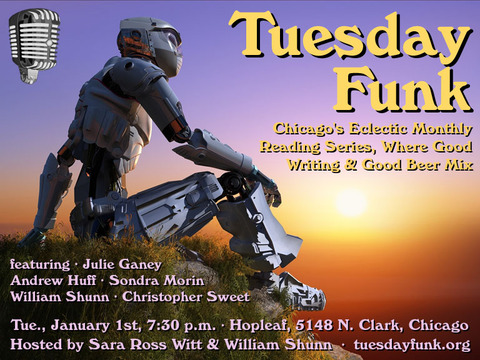 Don't forget,
Tuesday Funk
has the cure for your New Year's Day hangover—a little hair of the dog, and five great anodynic acts of live literature!
We're pleased to kick off the year with the next in our series of readings from the 2nd Story essay anthology Briefly Knocked Unconscious by a Low-Flying Duck. in the person of writer/actor Julie Ganey. We'll also have Andrew Huff from Gapers Block with us, as well as Sondra Morin, Christopher Sweet and co-host William Shunn. Throw in one of our patented Poems by Bill, not to mention your pick of cold beers from around the world, and we'll have you feeling better in no time!
So "like" us today on Facebook and get set to celebrate surviving into 2013 with hosts Sara Ross Witt and William Shunn.
Hopleaf Bar is at 5148 N. Clark St. in Chicago. The reading begins at 7:30 pm in the upstairs lounge. The lounge opens at 7:00 pm. Arrive early if you want a seat. As always, the upstairs lounge at Hopleaf is 21 and over only. Remember also that no food can be brought in from the restaurant.