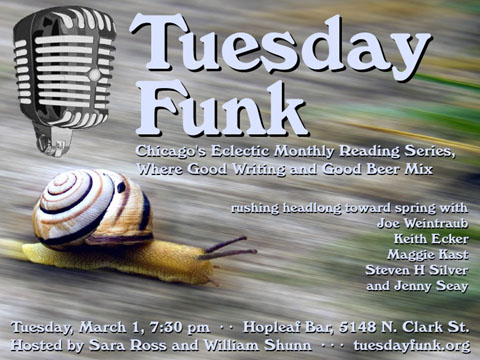 You've survived the Great Chicago Blizzard of '11. You've survived the mayoral campaign. You've survived the coyotes in Winnemac Park. You've even survived your Oscars party. (Okay, scratch that last one. The Oscars were insufferable.)
The point is, you're a survivor, and it's time to reward your endurance with some good writing and good beer. So trek on over to Hopleaf tonight (Tuesday, March 1st) and join your hosts Sara Ross and William Shunn for the 32nd entry in our theoretically infinite Tuesday Funk reading series.
Our hot lineup tonight will include poetry, fiction, essays, and more from the likes of Joe Weintraub, Keith Ecker, Maggie Kast, Steven H Silver, and Jenny Seay.
That's five great readers for the mere price of a beer. Or maybe two because, hey, 2 to the power of 5 equals 32. That's some real mathematics for your ass.
Hopleaf is at 5148 N. Clark St. in Chicago. The reading begins at 7:30 pm in the upstairs lounge. The lounge opens at 7:00 pm. Arrive early for a seat!
As always, the upstairs lounge at Hopleaf is cash-only and 21 and over. Remember also that no food can be brought in from the restaurant.