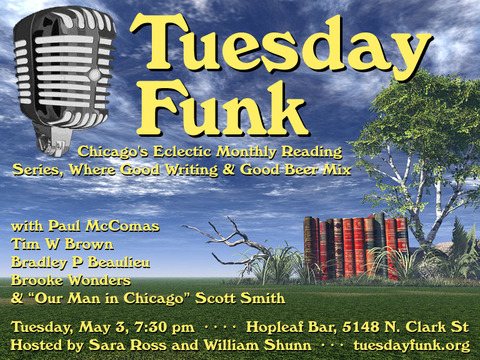 Reach for the sky, pardner!
No, wait, put your hands down! We meant that in an entirely metaphorical and inspirational sense, which is why we're bringing you the entirely inspirational and not at all metaphorical lineup of talent at tonight's edition of Tuesday Funk. That's the monthly Chicago reading series where good writing and good beer mix, and where this evening we're celebrating our 34th big episode!
Our amazing guests tonight will include the up-to-the-minute reportage of Scott Smith, the phantasmagorical fiction of Brooke Wonders, the epic fantasy of Bradley P. Beaulieu, the time-twisting humor of Tim W. Brown, and the harrowing futures of Paul McComas. We'll also throw in a not-quite-epic Poem By Bill for no additional charge. It promises to be the best reading of what has so far been a stellar season, so you won't want to miss it. And the event is absolutely free, though if you want to buy a beer or two, we sure would be obliged.
Hopleaf is at 5148 N. Clark St. in Chicago. The reading begins at 7:30 pm in the upstairs lounge. The lounge opens at 7:00 pm. Arrive early for a seat!
As always, the upstairs lounge at Hopleaf is cash-only and 21 and over. Remember also that no food can be brought in from the restaurant.