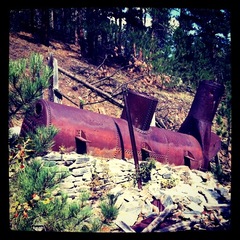 If you missed Tuesday Funk this week at Hopleaf, we're sad to say you missed a train that won't be stopping here again. Erin J. Shea set a terrifying tone with her tales of new motherhood. Liz Baudler let us listen in on some very animalistic girl talk. And in an excerpt from his novel-in-progress, C.P. Chang showed us some of the very different faces of racism.
After a break for beer and a zombie haiku, Matt Darst took on a tour through the mind of dog whose masters have started acting rather strangely, in an excerpt from his new novel Dead Things. And to round things out, co-host William Shunn took us to a highly improbable 2012 World Series where the fate of the whole city rests in the hands (and tentacles!) of Chicago's own Cubbies.
But don't worry if you weren't there. Tuesday Funk will be rolling into the station again on November 1st with great work from Suzanne Clores, J.D. Adamski, Matt Wood, Cesar Torres, and Laura Stark, and yet another Poem By Bill. It's a Thanksgiving feast of epic proportions, and you won't want to miss it. Mark your calendar now!