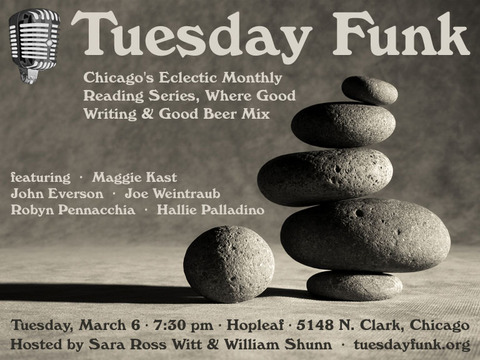 What's that shimmering oasis on the horizon? Why, it's
Tuesday Funk,
and if you set out now you just might reach
Hopleaf
in time tonight for our
43rd big episode.
Our remarkable lineup tonight includes John Everson, Robyn Pennacchia, Maggie Kast, Joe Weintraub, and former Tuesday Funk host Hallie Palladino, not to mention one of our patented Poems By Bill.
So "like" us today on Facebook, strap on those walking shoes, grab one of dozens of varieties of beer from the bar, and get set for an evening of entertainment worth the trek.
Hopleaf Bar is at 5148 N. Clark St. in Chicago. The reading begins at 7:30 pm in the upstairs lounge. The lounge opens at 7:00 pm. Arrive early if you want a seat.
As always, the upstairs lounge at Hopleaf is cash-only and 21 and over. Remember also that no food can be brought in from the restaurant.