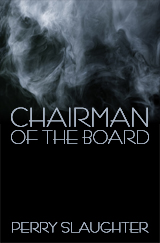 Besides serving as co-host of
Tuesday Funk,
William Shunn
slinks through life as the lesser-known secret identity of hard-edged cult pulp fiction author
Perry Slaughter
.
Mr. Slaughter, or so the story goes, first came to prominence in the mid-1980's with slender works of genre fiction hailed as "utterly bereft of any moral center." More recently his short stories have appeared in Electric Velocipede and elsewhere. Sinister Regard Publishing has just undertaken a project to reissue some of his early novellas, including Chairman of the Board, Deus Ex Machina, and Whether We Are Mended. He divides his time between the northeastern United States and a yacht plying international waters. His passions include vinyl records, scotch whisky, and high-seas piracy.
Hear Bill (and/or Mr. Slaughter) and the rest of our outstanding readers on Tuesday, January 1, 7:30 pm, in the upstairs lounge at Hopleaf.