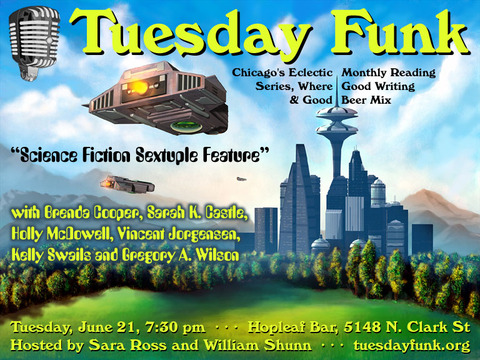 Happy
Summer Solstice

,
in honor of which your friends here at the Funk are staging an
alien invasion
tonight in Chicago! Well, at any rate, a group of fantastic out-of-town writers from around the country will be converging on Hopleaf for a phantasmagorical edition of Tuesday Funk. That's the monthly Chicago reading series where good writing and good beer mix, and where this evening we're celebrating our
35th
stellar episode with a very special
Science Fiction Sextuple Feature.
Our amazing guests—on loan from the Wellspring Workshop in Lake Geneva, WI—will include Brenda Cooper, Sarah K. Castle, Holly McDowell, Gregory A. Wilson, Vincent Jorgensen, and Kelly Swails. We'll also throw in one of our patented Poems By Bill for no extra charge. Hey, the show's free anyway, so it's no skin off our proboscides! We hope you'll avail yourself of a beer or three at the bar—but only if you're not piloting a car or a spaceship home afterward.
So let your geek flag fly, set your phasers on fun, and join us tonight for six terrific journeys to the ends of space and time!
Oh, one more thing, and please pay attention! Show up at Tuesday Funk tonight to learn how you can attend a very exclusive advance screening of ATTACK THE BLOCK, the latest movie from the producers of Shaun of the Dead and Hot Fuzz, taking place in Chicago on Thursday, June 23. You won't want to miss this story of a London street gang defending their council estate from alien invaders. So be there at Hopleaf, or "like" us today on Facebook, and we'll get you the skinny on this acclaimed U.K. flick. See you tonight!
Hopleaf is at 5148 N. Clark St. in Chicago. The reading begins at 7:30 pm in the upstairs lounge. The lounge opens at 7:00 pm. Arrive early for a seat!
As always, the upstairs lounge at Hopleaf is cash-only and 21 and over. Remember also that no food can be brought in from the restaurant.