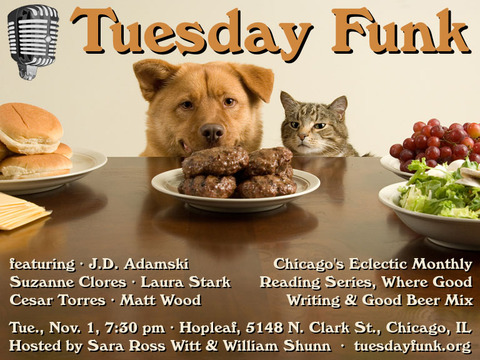 Tonight's the night! It's that one magical evening of the month when we convene
Tuesday Funk

,
the monthly Chicago reading series where good writing and good beer mix. It's our
39th
big episode, and we're bringing you five great readers—most of whom are crowd favorites who've graced our podium before—for the mere price of a delicious craft beer or two. How can you resist?
Our stellar lineup tonight includes J.D. Adamski, Suzanne Clores, Laura Stark, Cesar Torres, and Matt Wood, and we'll throw in one of our patented Poems By Bill for no extra charge. So "like" us today on Facebook, arrive early, grab a beer from the bar, and get set for a terrific and challenging evening of entertainment. And don't forget to "drive safeley"!
Hopleaf is at 5148 N. Clark St. in Chicago. The reading begins at 7:30 pm in the upstairs lounge. The lounge opens at 7:00 pm. Arrive early for a seat!
As always, the upstairs lounge at Hopleaf is cash-only and 21 and over. Remember also that no food can be brought in from the restaurant.